2017.01/16 [Mon]
Babby Lu
a.k.a. the
Doll from Death Stranding
I have been wanting to recreate this doll since the 2nd trailer for Death Stranding came up except I'm so lazy to go out to look for a cheap doll that it took me this long to make it.
I was looking for the cheapest blinking doll I could find but majority of the dolls I found cries. Like literally it cries, if you take off the pacifier, it cries. It is like the doll knows what I'm about to do! lol
I was talking to the lady I bought this from and she commented that those dolls doesn't exist anymore (or rather they don't sell them) cause the crying was the selling point. I have to say she has a point. She also said that the quality of the dolls have gone down. And I can see that just from the doll's hair. I remember dolls like this before and they used to have more hair than that.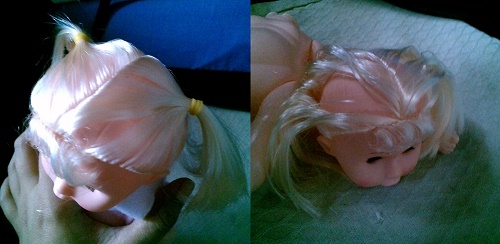 First order of business is to remove it's pacifier, remove its hair, cut the belly and put wires in. Removing the pacifier and what make it cry was easy. Cutting and specially putting the wire was kind of a challenge cause cutting plastic and creating small holes was kinda scary. I was scared at some point that I might cut myself. I have to use my fingers to keep the plastic in place.
Since I was using acrylic to paint its grimy details I have to use quite a bit of water. And since plastic is water resistant, I have to put a thin layer of white paint. Painting it white also help make it look like it's been under the sun for a while. I worked on the pieces individually, it makes it easier to paint.
I also took the time to fill in the gaping hole in the doll's back. I know I don't have to but I just wanted to do it. I used super glue and a piece of hard plastic, and then some clay to create the shape of the back. I also layered it with skin colored paint and then just butchered it with black later on.
Like I mentioned before cutting plastic wasn't easy but creating tiny holes in it's head was harder. I was originally thinking of punching small holes in its head but it was so hard that I just painted the holes. The plastic on the doll's head was thicker and it's color is different from it's body. This is another reason why I painted the whole thing with white paint. The doll originally have lip stain, blushes and eye brows. I don't have paint thinner to remove them so I just covered it up.
I used a couple of pins to mimic those things in it's head. I don't really know what they are, it could be wood cause on its color. I was also thinking who made the doll. Since it's a doll maybe it's a twisted kid condemning someone in the game or maybe just an adult like me who's crazy enough to make one. So again, I don't know what's that on it's head.
I also glued it's right eye with glue although I really don't have to but I'm kinda mimicking the game trailer. Never once in the trailer that we so the doll upright. So we can't say it can still open it's eyes.
Looking at this doll, it kinda reminds me of Pinhead from the Hellraiser series. I bet this doll tells a story too. When I showed it to my brother, he said 'too bad we don't know what it's name yet' (then later commented that that there are still no update for Final Fantasy 7 remake lol).
I know it's not an exact replica but I tried my best. Also this made me realize that this is the second time I made something from the second trailer. I did drew
Mads Mikkelsen's character
last year. I think I should do something from the first trailer. The dog tags perhaps?
I can't wait for this game to come out. I heard that this is going to be open world with online features which scares me a bit since I don't do well with online co-op stuff, also I tend to get lost in open world stuff. Not lost as I-can't-find-my-way lost but lost just looking at details and stuff. I remember playing Shadow of the Colossus just wandering around. But still, I can't wait!!
moar pics
posted this on FB with the reference cause not all my friends are gamers
by the way, the doll's left eye can still blink and as for the right eye I have lightly glued it for the picture.
If you got this far and still don't know what I'm blabbing about or where this idea came from, check this out:
honestly I feel bad for the doll... (´・_・`)